2019 Range Rover Evoque vs. 2019 Range Rover Velar
Range Rover vehicles are in the top of their class when it comes to luxury SUVs. There are a few different Range Rover models to choose from, including the 2019 Range Rover Evoque and the 2019 Range Rover Velar. While both offer luxe features and off-road capabilities, there are differences between the Range Rover Evoque vs. Range Rover Velar that you'll want to consider before making your purchase in the Dallas Fort-Worth area.
Range Rover SUV Specs
Price: Starting MSRP for the Range Rover Evoque begins at $41,800 MSRP, and the Range Rover Velar starts at $49,600 MSRP.
Seating: Both of these Range Rover SUVs comfortably seat up to five passengers.
Cargo Space: Inside the Evoque, you get 51 cubic feet of cargo space, and the Velar provides 34.4 cubic feet behind second-row seats for groceries, luggage, and other items.
Front Headroom: Fort Worth drivers and passengers get 39.3 inches inches of headroom in the Evoque or 38.1 inches in the Velar.
Range Rover SUV Interior
Infotainment System: Both SUVs deliver on the technology front. The 2019 Range Rover Evoque can be equipped with the Touch™ or Touch Pro™ system, and the 2019 Range Rover Velar offers the Touch Pro™ Duo system.
Touchscreen: The infotainment system in the Evoque has an 8-inch touchscreen or an available 10.2-inch touchscreen, and the Velar has two 10-inch HD touchscreens.
Upholstery: The seats in the Range Rover Evoque are upholstered with grained leather, while the seats in the Range Rover Velar are upholstered with Luxtec and suede-cloth materials.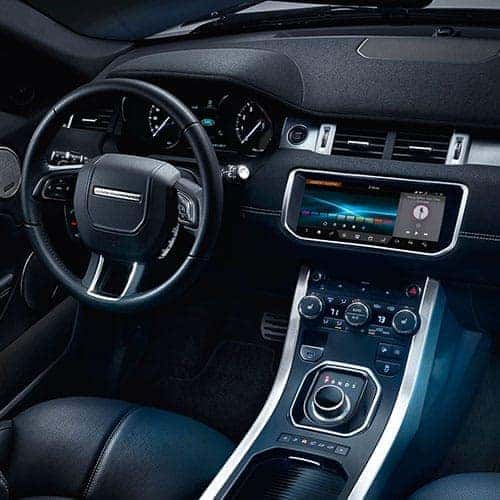 Range Rover SUV Performance
Base Engine: DFW area drivers get two great base engine options to choose from. The Evoque has a standard 2.4L four-cylinder Si4 engine, and the Velar has a 2.0L 16v i4 turbocharged engine as standard.
Horsepower: The base engine of the Evoque delivers 237 hp, and the Velar base engine delivers 247 hp.
Towing Capacity: With the Evoque, you're able to tow up to 3,968 pounds. The Velar has a max towing capacity of 5,500 pounds
Test Drive both Range Rover SUVs at Autobahn Land Rover Fort Worth
So, which will it be — the Evoque or Velar? If you want more power and towing capabilities, the Range Rover Velar is the better choice. If you want an affordable option with plenty of cargo room, the Range Rover Evoque is the way to go. To help you make your decision, schedule a test drive in Fort Worth, and speak to our sales team about these two vehicles. You can also compare the Range Rover vs. Range Rover Sport, Range Rover Evoque vs. Range Rover Sport, or the Range Rover Sport vs. Range Rover Velar to help you make your choice! If you're looking towards the Velar, explore Range Rover Velar color options and interior design!
New Range Rover Evoque Inventory
New Range Rover Velar Inventory