How to Clean Leather Seats

Wondering how to clean car seats that have leather upholstery? Save money on a full detail in Fort Worth by learning the best tips for cleaning leather seats in your luxury car, and find out how to take care of the leather in between regular cleanings. Follow our step-by-step guide below, and contact Autobahn Land Rover Fort Worth if you have any questions!
Steps for Cleaning Leather Car Seats
Supplies: 
Your choice of cleaning solution:

Saddle soap, leather cleaner, or mild leather soap
OR, a DIY solution of 1 part white vinegar/2 parts linseed oil in a spray bottle

Clean microfiber cloths
Soft-bristled interior brush (NOT a stiff carpet brush)
Instructions:
Before doing anything else, the most important step is to check your owner's manual for model-specific instructions or any products NOT to use.
Being careful not to scratch the leather, vacuum the seats to remove all particles. Use the smaller attachments or an air compressor to get into the cracks.
Spray your leather cleaning solution on the microfiber cleaning cloth to wipe the seats clean and remove dirt and oils that are still on the surface.
For a deeper clean, spray the cleaner on the seats and gently scrub the surface with the brush.
If your vehicle has perforated leather seats, spray directly onto the brush to apply to the seats, to avoid getting too much moisture into the seats.
Wipe the seats with a clean and dry microfiber towel.
Steps for Conditioning Leather Car Seats
If you regularly apply leather conditioning to your seats, this can help prevent cracks and dryness, prolonging the softness of the leather material.
Check the leather conditioner for natural ingredients, and avoid ingredients like waxes, petroleum distillates, and silicones.
Apply a small amount of conditioner to a clean and dry microfiber cloth.
Gently work the conditioner into the leather.
Allow about an hour for the conditioner to soak into the leather before touching the material, keeping the seats out of the sun as much as possible to avoid premature drying.
Once the conditioner is fully absorbed gently the leather with a new microfiber cloth.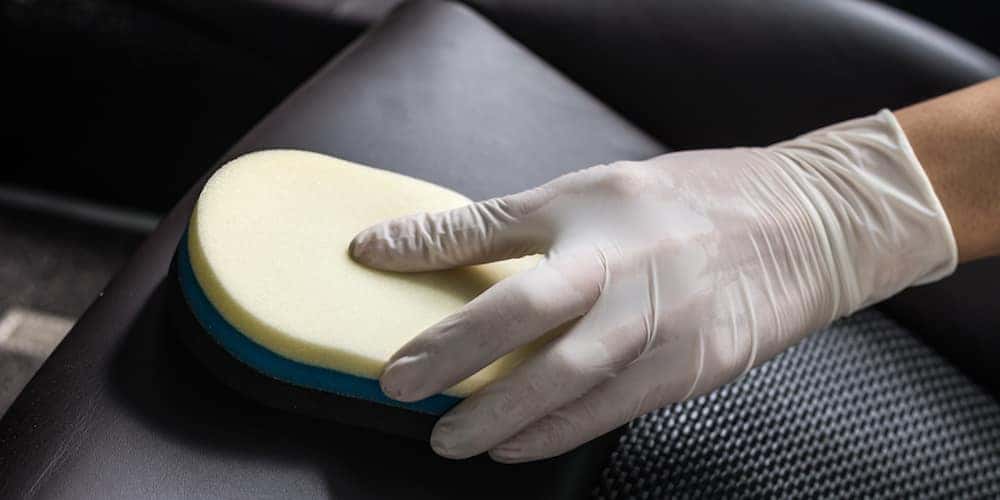 More Leather Care Tips
Keep leather cleaning supplies on hand to clean your seats as spills and dirt appear to prevent permanent damage to the leather.
If you have a garage in Dallas Fort-Worth, you can better protect the leather from extreme temperatures and sun damage.
When driving around the DFW area, park your car in the shade as much as possible to reduce sun bleaching or sun damage to the seats.
Rely on Autobahn Land Rover Fort Worth for More Car Care Tips
Learn more about luxury vehicle care Autobahn Land Rover Fort Worth to keep your car interior and exterior pristine, find out how to prolong the life of other vehicle components with more tips on vehicle service from your local authorized Land Rover service center!
---
More from Autobahn Land Rover Fort Worth
If you are shopping for a new Land Rover in Grapevine with plenty of customization options, the 2020 Land Rover Range Rover has endless interior color choices and paint color options. Explore Range Rover colors at Autobahn Land Rover Fort Worth and find the perfect configuration for your style. Then contact your local authorized Land Rover retailer to schedule a test…

How much can a Range Rover Evoque tow? The 2020 Land Rover Range Rover Evoque is the most compact of all the Land Rover models, but it offers 3,968 pounds maximum towing capacity so you can still haul what you need around Grapevine. Explore the Range Rover Evoque towing specs and features, then contact Autobahn Land Rover Fort Worth near…

How much can a Land Rover Discovery Sport tow? The latest 2020 Land Rover Discovery Sport has a maximum towing capacity of up to 4,409 pounds, with engine options and features to make towing easier on Grapevine roads. Learn more about this sporty member of the Discovery family and find out if it has the…